Overview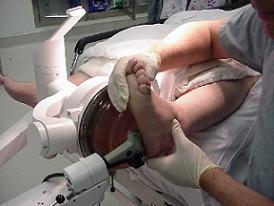 Heel pain is often the result of a heel spur, which is a bone growth on the heel bone. Heel spurs are usually located on the underside of the heel bone where it attaches to the plantar fascia, a long band of connective tissue running from the heel to the ball of the foot. This connective tissue holds the arch together and acts as a shock absorber during activity. If the plantar fascia is over-stretched from running, wearing poor-fitting shoes or being overweight, pain can result from the stress and inflammation of the tissue pulling on the bone. Over time, the body builds extra bone in response to this stress resulting in heel spurs.
Causes
Common causes of heel pain include Achilles tendinitis, Achilles tendon rupture, Bone tumor, Bursitis, Fibromyalgia, Fracture, Gout, Heel pad wear and tear, Heel spur, Osteomyelitis, Peripheral neuropathy, Pinched nerve, Plantar fasciitis, Rheumatoid arthritis, Stress fractures, Tarsal tunnel syndrome, Tendinitis. Causes shown here are commonly associated with this symptom. Work with your doctor or other health care professional for an accurate diagnosis.
Symptoms
Sever?s Disease. This is a condition that occurs in 10 - 15 year old children, predominantly boys and is associated with running and repetitive jumping. It is also associated with flimsy footwear that kids may wear. It occurs when the Achilles tendon continually pulls on the apophysis of the calcaneum and does not allow for it to
fuse
with the body of the calcaneum. Calcaneal enthesopathy. This occurs when there is repetitive trauma at the attachment of the Achilles tendon, resulting in a spur from the calcaneum up into the Achilles tendon. It is usually visualized on
x-ray
and may be tender if there is an associated bursitis or tendonitis. "Pump Bump". Also known as Haglund?s Deformity, this is a
bony
enlargement that exists on the back of the heel - usually related to a congenital abnormality or with chronic bursitis, causing a thickening. There may have already been trauma or pressure from footwear. Treatment is usually protection of the bump and correct footwear. Associated with a symmetrical swelling at the base of the Achilles tendon. It is usually related to repetitive trauma or inappropriate footwear. It is often red and hot in the early stages. Treatment is usually to correct the footwear, provide padding and treat the local symptoms e.g. ice, rest, physiotherapy and cortisone injection. Fat Pad Syndrome. Direct contact with the base of the heel may result in trauma to the fat pad. Related to obesity, training on hard surfaces, uneven grounds, poor shoes especially overlarge shoes which can cause shearing forces on the heel. These conditions are renowned for taking a long time to recover - usually many months.
Diagnosis
Your doctor will perform a physical exam and ask questions about your medical
history
and symptoms, such as have you had this type of heel pain before? When did your pain begin? Do you have pain upon your first steps in the morning or after your first steps after rest? Is the pain dull and aching or
sharp
and stabbing? Is it worse after exercise? Is it worse when standing? Did you fall or twist your ankle recently? Are you a runner? If so, how far and how often do you run? Do you walk or stand for long periods of time? What kind of shoes do you wear? Do you have any other symptoms? Your doctor may order a foot
x-ray
. You may need to see a physical therapist to learn exercises to stretch and strengthen your foot. Your doctor may recommend a night splint to help stretch your foot. Surgery may be recommended in some cases.
Non Surgical Treatment
Treatment of heel pain depends on its cause. Plantar fasciitis. Most doctors recommend a six- to eight-week program of
conservative
treatment, including temporary rest from sports that trigger the foot problem, stretching exercises, ice massage to the
sole
of the foot, footwear modifications, taping of the
sole
of the injured foot, and acetaminophen (Tylenol) or nonsteroidal anti-inflammatory drugs (NSAIDs), such as aspirin or ibuprofen (Advil, Motrin and others) for pain. If this
conservative
treatment doesn't help, your doctor may recommend that you wear a night splint or a short leg cast, or he or she may inject corticosteroid medication into the painful area. Surgery is rarely necessary and is not always successful. Heel spur.
Conservative
treatment includes the use of shoe supports (either a heel raise or a
donut
-shaped heel cushion) and a limited number of local corticosteroid injections (usually up to three per year). As in plantar fasciitis, surgery is a last resort. Calcaneal apophysitis. This condition usually goes away on its own. In the meantime,
conservative
treatment includes rest and the use of heel pads and heel cushions. Bursitis. Treatment is similar to the treatment of heel spurs. Changing the type of footwear may be essential.
Surgical Treatment
If treatment hasn't worked and you still have painful symptoms after a year, your GP may refer you to either an orthopaedic surgeon, a surgeon who specialises in surgery that involves
bones
, muscles and joints or a podiatric surgeon, a podiatrist who specialises in foot surgery. Surgery is sometimes recommended for professional athletes and other sportspeople whose heel pain is adversely affecting their career. Plantar release surgery is the most widely used type of surgery for heel pain. The surgeon will cut the fascia to release it from your heel bone and reduce the tension in your plantar fascia. This should reduce any inflammation and relieve your painful symptoms. Surgery can be performed either as open surgery, where the section of the plantar fascia is released by making a cut into your heel or endoscopic or minimal incision surgery - where a smaller incision is made and special instruments are inserted through the incision to gain
access
to the plantar fascia. Endoscopic or minimal incision surgery has a quicker recovery time, so you will be able to walk normally much sooner (almost immediately), compared with two to three weeks for open surgery. A disadvantage of endoscopic surgery is that it requires both a specially trained surgical team and specialised equipment, so you may have to wait longer for treatment than if you were to choose open surgery. Endoscopic surgery also carries a higher risk of damaging nearby nerves, which could result in symptoms such as numbness, tingling or some loss of movement in your foot. As with all surgery, plantar release carries the risk of causing complications such as infection, nerve damage and a worsening of your symptoms after surgery (although this is rare). You should discuss the advantages and disadvantages of both techniques with your surgical team.
what does a heel spur look like
Prevention
It may not be possible to prevent all cases of heel pain. However, there are some easy steps that you can take to avoid injury to the heel and prevent pain. Whenever possible, you should wear shoes that fit properly and support the foot, wear the right shoes for physical activity, stretch your muscles before exercising, pace yourself during physical activity, maintain a healthy diet, rest when you feel tired or when your muscles ache, maintain a healthy weight.